Media Coach Insights …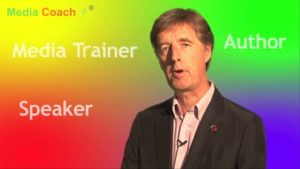 Welcome back to another episode of the Get More Success Show.
International Media Guru, Alan Stevens joins us today.  Alan presents some insightful business views and guidelines that he, as Media Coach, works to.
After many years working in a global corporate platform and encountering the highs and lows across this spectrum, Alan finds that the greatest measure to success is simply being happy in your employment.
Interestingly, a hindsight tip for those coming up through the ranks is to choose a niche work market early in their careers.   This, coupled with his adage of being prepared to work hard – to do things others aren't prepared to do – has been a key to his own successful career and is a legacy he readily shares.
Treating customers well and going beyond your clients' expectations – ZMOT – is another cornerstone of his success which he will expand upon.
The pivotal focus of Alan's work is the protection of brand reputations – how to manage well when things go wrong, how to recover from bad feed back and how by owning up to mistakes and fixing them speedily and responsibly can make the difference between brand success or disaster.
This will be, indeed, an interesting Podcast chat …
Don't forget to head over to our Facebook group and let us know your thoughts.
Podcast: Play in new window | Download
Subscribe: Apple Podcasts | Android | RSS