Laughter is a serious business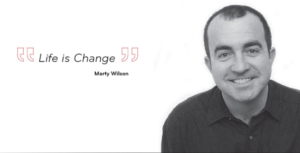 Welcome to the Get More Success Show Podcast – we are pleased to have you with us.
Our guest today is a TED speaker, a top stand-up comic in Australia and the UK, an author and a registered pharmacist.  He is Marty Wilson.
Marty certainly is no stranger to interviews.  He has recorded over 1,000 interviews – with an exceptionally wide range of people and circumstances – as research material for his books.
To be able to look back on life with a heart-felt smile, rather than regret, is the measure of success for Marty.  His pride in his many achievements comes through in the stories that he shares with us.
It was a series of changes in his professional life that has led Marty to become such a recognised leading speaker and host.   Using methods such as tapping to different skill sets, searching for tips and techniques and, importantly, accepting that creativity is a process of trials and errors, has helped him gain success along the way.  What Marty does best are the things he enjoys most … and these have brought him the rewards he has worked so diligently for.
There are a lot of great 'take-aways' in this chat with Marty – not the least of which are the values of learning to mediate, follow our own course and to "pound" our marketing.
Don't forget to head over to our Facebook group and let us know your thoughts.
Podcast: Play in new window | Download
Subscribe: Apple Podcasts | Android | RSS