Growing a better future …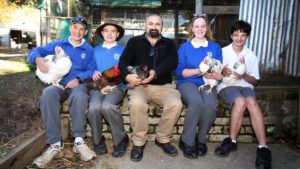 We welcome to today's Get More Success Show, Luciano Mesiti. Luciano is currently the Head of the Agriculture Department at a high school in NSW. He is also a consultant who conducts lots of research and a musician in the fields of opera and guitar.
By consciously blending his professional work with his hobbies, Luciano is able to be creative with the programs he develops and boosts interest in ways few others can.
To Luciano, success is all about having a passion for whatever you are involved in – setting a goal, inspiring others to team up with you and committing to making your dreams a success.
I am sure you will enjoy Luciano's thought-provoking views on how Australians have become disconnected from the agricultural processing issue of 'Paddock to Plate' and on how technology and robotics play a greater role in food production than most of us realise.   Food for thought indeed!
Don't forget to head over to our Facebook group and share with us your comments.
Podcast: Play in new window | Download
Subscribe: Apple Podcasts | Android | RSS