Camera! Action! Success!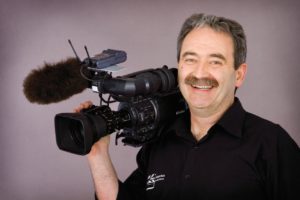 Today's special guest is known as 'Mr Film' … it's a pleasure to welcome to the Get More Show, National Award winning film-maker, Gary Hegedus.
Like many successful people, Gary has built his working philosophy around his own life experiences and his being prepared to try something new.  In his career  journey he has managed to match his technical skills with his desired creative pursuits and by doing so created a working life which he really loves, and is not "just a job".
By honing his craft to encompass technical skill, customer service and achieving the objective of the project has provided the means for Gary to develop his passion for making creative short films, music videos and also a new hobby – cardboard sculptures – into his semi-retirement.
To do absolutely what he wanted to do – to be selfish in doing what he loves to do and getting paid for it – captures the true meaning of success for Gary.  He shares this story with us including one of his life lessons – "tip the scales to do your thing".
Enjoy the show and don't forget to head over to the Facebook page and join the conversation.
Podcast: Play in new window | Download
Subscribe: Apple Podcasts | Android | RSS