That was the best event ever …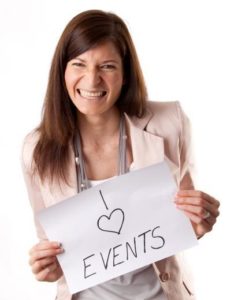 What would you do if you became ill, had to quit your job and had to move in with your parents?   Given this set of circumstances, as she recovered her health, our guest on this episode of the Get More Success Show started her own business !
We are spending time today finding out how Kim Hesse has gone from strength to strength after using adversity as a stepping stone to becoming an expert in creating successful Events.  
Kim has a melting pot of elements that form her idea of Success. The keys to her Success revolve around creating that elusive balance of business triumphs and a happy lifestyle. We will learn how part of her secret to achieving this has been to become better at shutting work down and stepping into her personal life.  
Kim's business, Venues 2 Events has 3 components …
–   An on-line venue research facility
–   Managing events and conferences
–   Training in event management
Across each of these carefully chosen paths to Success Kim has incorporated trusting her intuition, self-belief and valuing her time. Partnering with other brand names in the events industry has been of great value but perhaps of more importance has been the ability deliver on what she promises.
Our thanks to Kim for sharing some insights into her success story in creating memorable events.
Don't forget to head over to our Facebook group and let us know your thoughts.
Podcast: Play in new window | Download
Subscribe: Apple Podcasts | Android | RSS