Ep006 Do Talk to Strangers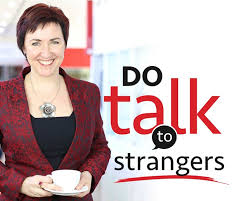 Kerrie Phipps loves to talk to strangers. She has built a career on it. Starting out as a dental nurse, she has moved through many careers paths to arrive as a Leadership Coach.
What makes her journey interesting is that she has done this while living almost two hours away from a major capital city. Our conversation covered many elements of success. Her own, her clients and some of the secrets of talking to strangers.
This show includes:
How she motivated a client a running beauty salon to become real estate agent and beyond

How she has shifted from "Yours sincerely" to "Cheering you on" and why that is important

The power of encouragement to lift you across the finish line

The dangers of comparing your insides to someone else outsides

The challenges of running a rural or regional business

How the concept of Do Talk to Strangers came about (it was on a plane)

How to really pay attention to people when you speak to them

The rules of speaking to people in elevators and lifts

Tips on how to talk to strangers without hesitating

How talking to strangers can add dollars to your bottom line

Join the Do Talk to Strangers Facebook group
Kerrie has offered her "ASKING" model card to anyone who would like it. Simply say you have connected with her via the Get More Success Show when you click this link to send her an email request. 
I trust this episode will get you out of your comfort zone and talking to strangers, for your benefit and theirs!
Don't forget to share your experience and connect with other successful people over at the Get More Success Facebook group.
Podcast: Play in new window | Download
Subscribe: Apple Podcasts | Android | RSS